COMPANY STORY
Since its inception in 1969, SABA has been a steady presence in the measure-instrumentation' market with its steel-made products: pressure gauges, pressure gauges with diaphragm, flow meters, level indicators and thermometers. SABA utilizes the best technological methods to make its instruments, these methods are constantly updated with the latest evolutions available. An evidence of this high standard production comes from the ever expanding portfolio of Italian and foreign clients.
The sectors that make use of our products are: the food (milk, wine, fruit juices), chemical, pharmaceutical, paper and petroleum industries. The sector in which SABA is really focused is the food industry, where the quality and utilization of the equipment must answer severe technical and hygienic norms. The high quality of our products and the respect of contractual terms are our business philosophy. We are dedicated in making sure that our clients are constantly satisfied.
SABA IN THE WORLD
Our customers around the world can be sure of getting excellent quality in all the aspects. Saba is represented throughout the world by several branches, as well as agencies that can handle the individual needs of each customer.
We are present with our products all over the world. We export to Italy, Portugal, Spain, France, Holland, Germany, Lithuania, Serbia, Albania, Greece, Romania, Bulgaria, Lebanon, Tunisia, Turkey, Syria, Saudi Arabia, South Africa, United Arab Emirates, Mauritius, Thailand, Malaysia, Vietnam , Japan, Chile, Uruguay, Brazil, Florida, California, Congo, Peru, Malta, the Czech Republic, England, Oman, Iran, Slovenia, Sweden, Cameroon, Armenia, Dubai, Austria.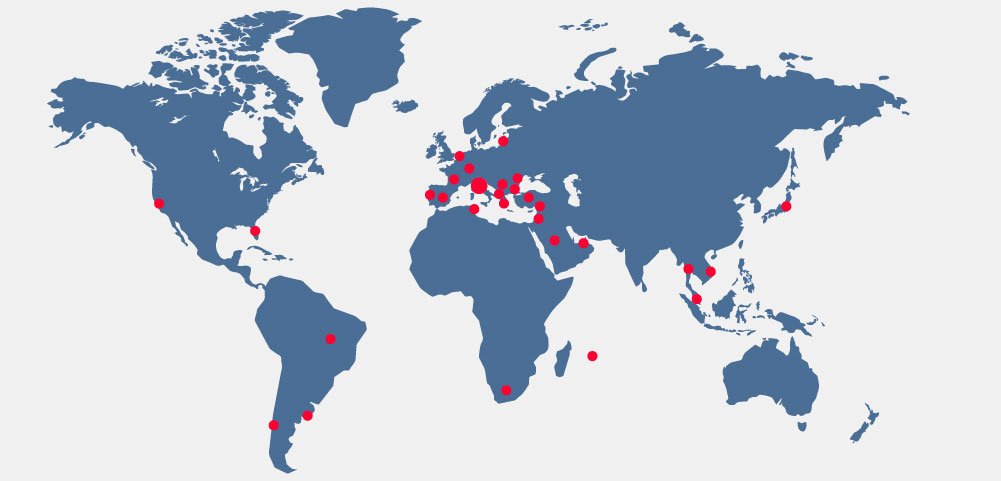 CERTIFICATIONS
Our company has ATEX certification. All of our products have undergone a series of controls to ensure their safety, quality and reliability.


Attachments